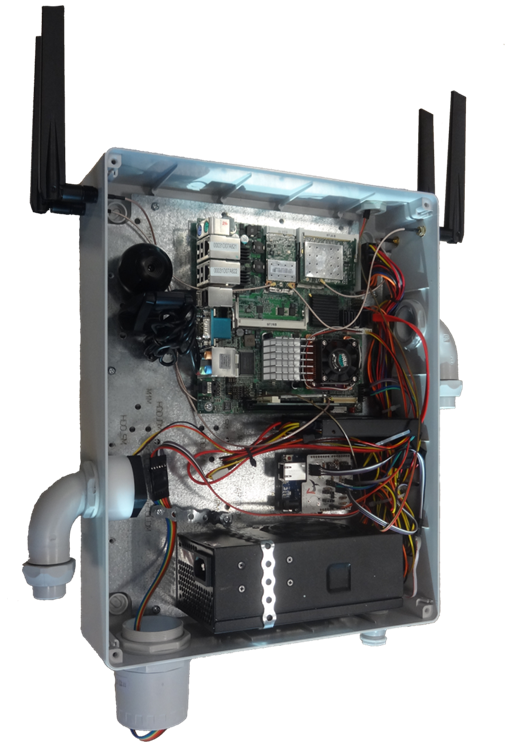 The upgraded Outdoor Nodes have been developed by the NITLab team and support MIMO operation. The new version of the Outdoor Nodes are equipped with 802.11a/b/g and 802.11a/b/g/n wireless interfaces. They also feature 2-core Intel cpus, new generation solid state drives and usb web cameras. Last but not least, each node is equipped with light, temperature and humidity sensors.
You can find in the following table, some indicative specifications for the Outdoor Nodes. These could be altered according to the specific needs of each deployment.
Specifications:
| | |
| --- | --- |
| Motherboard | Features two Gigabit network interfaces and supports two wireless interfaces |
| CPU | CPU Intel Core 2 Duo P8400 2,26 GHz |
| RAM | 2G DDR3 |
| Wireless Interfaces | Atheros 802.11a/b/g & Atheros 802.11a/b/g/n (MIMO) |
| Chassis Manager card | NITlab CM card |
| Storage | Solid state drive |
| Power Supply | 350 Watt mini-ATX |
| Antennas | Multi-band 5dbi , operates both on 2.4Ghz & 5Ghz |
| Pigtails | High quality pigtails (UFL to RP-SMA) |
In order to control and monitor Outdoor nodes' operation, we use NITlab's Chassis Manager Card (CM card). A tiny web server is running on the CM card and serves http requests, such as power on/off and reset commands. Further more, CM card can support real time sensor measurements, since it can be connected with temperature & humidity sensors, as well as with light sensors.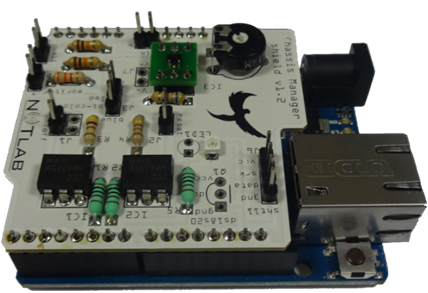 Two leds are used to indicate the operational status of the outdoor nodes. More specifically a two state led, located on the side, indicates the power status of the node. If the led is red the node is turned off and if the led is blue the node is turned on. The same led flashes in red mode each time the cm card serves a request.
The second led is on the cm card and indicates the connection of the node to the power supply.